The Lord of the Rings - short sword of Frodo Sting replica 1/1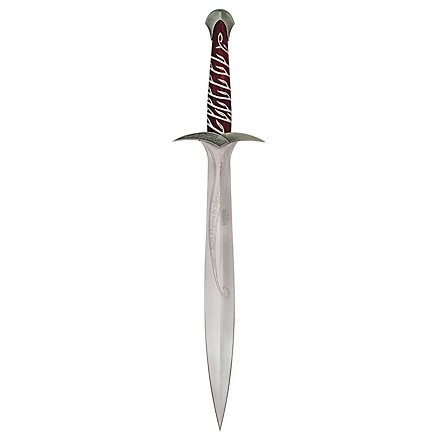 Frodo's version of the short sword Sting from Lord of the Rings as a detailed replica in original size with display.
Note
We will only deliver this product to a legal adult.
blade length: 38 cm
blade thickness: 6.4 mm
Weight: approx. 2 kg
unsharpened
With certificate of authenticity
420 stainless steel with engraved elven runes
with wooden wall mounting for presentation
The legendary, blue shimmering blade sting. The short sword, which was forged in Gondolin and used in many battles. It shines blue whenever orcs are near and was found by Bilbo Baggins in the troll caves of Rhudaur. From then on it served its wearer well and saved his life in the Bleak Forest in the fight against giant spiders. Later Sting was therefore engraved in Elvish with the saying: "Sting I am called - I am the curse of spiders" and became the property of Frodo Baggins through Bilbo. It should also save his life several times on his quest to destroy the one ring.
This detailed replica of the short sword from the Lord of the Rings trilogy by Peter Jackson is the engraved version by Frodo Baggins. The hilt is made of fine hardwood and blade, parry and pommel are made of stainless steel. A matching wall display made of wood is included to present the deco weapon in proper style.
PLEASE NOTE: Sting is a pure decorative object and not sharply cut!
back to top