Chain mail - Warrior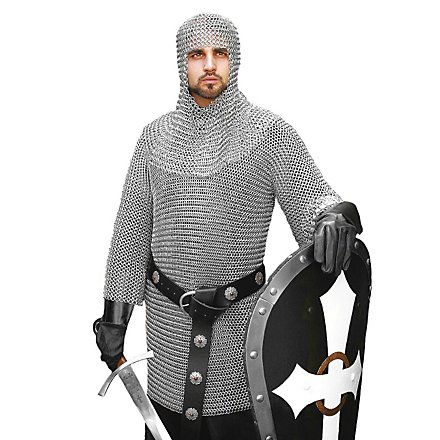 Chain mesh made of steel rings
Historic chain mail: ring armour made of robust steel rings, as worn by knights and warriors in medieval Europe.
Throughout the Middle Ages, chain mail was one of the most valuable and effective pieces of armour in the arsenal of European fighters. The countless linked steel rings offered the best possible protection against sharp and pointed attacks with spears, daggers, swords and arrows. Against blunt weapons such as clubs and hammers, on the other hand, chain mail was not very effective, which is why padded protective clothing was always worn under chain mail.
Our chain mail warrior is made of resistant steel rings. The rings are made of 1.7 mm thick steel wire and have an outer diameter of 1.25 cm. They are woven in the 4-in-1 pattern that is common in Europe. The neckline is rectangular and the sleeves are approx. 62 cm long (measured from the shoulders). From the shoulders to the bottom hem, the chainmail measures approx. 90 cm. In the chest and stomach area, the maximum circumference is approx. 130 cm. As is usual with chain mail, the shape fits closely to the undergarment and torso, even with very different body shapes. The total weight is 10.5 kg.
We recommend keeping the warrior chainmail permanently oiled to prevent corrosion.
Included in delivery
Warrior chainmail 1-piece
Without other costume parts and accessories
.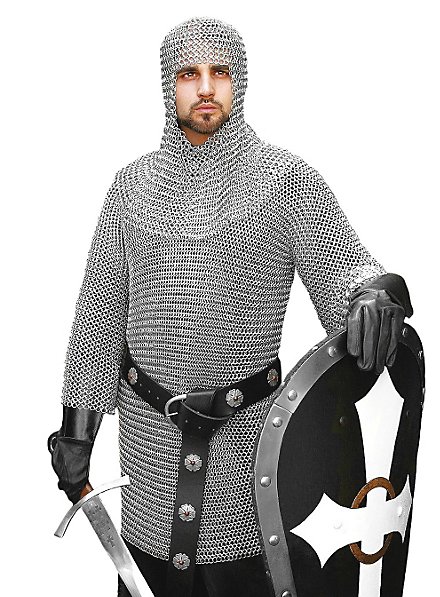 back to top