The Hobbit - Sword Glamdring Replica 1/1 121 cm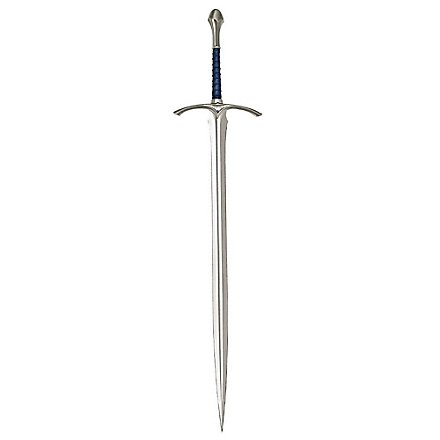 Gandalf's sword as a luxurious decorative sword replica in original size with display.
Material:

Metal,Wood,Leather
Blade Length: 89.53 cm
Overall Length: 120,96 cm
unsharpened
With wooden wall mounting for presentation
With certificate of authenticity
Glamdring is an exquisite example of the height of Elven swordcraft, and a weapon befitting an Elven king. Gandalf claimed Glamdring for his own and wielded the sword through the Quest for Erebor, using it against the Goblins of the Misty Mountains, and later on the quest to destroy the One Ring. The great sword remained at Gandalf's side until the end of his days in Middle-earth.
This authentically detailed replica is a reproduction of the actual filming prop built by Weta Workshop of New Zealand and used in the motion picture, THE HOBBIT: AN UNEXPECTED JOURNEY. United Cutlery, industry leader in fine movie reproductions, has meticulously recreated the prop using only the finest grade materials and craftsmanship. Close attention to detail was a top priority. The Glamdring sword is 120.96 cm overall, featuring a stainless steel blade, solid metal hilt parts, faux blue jewel inlays, and a genuine leather-wrapped grip. It is presented with a wood wall display and includes a certificate of authenticity.
PLEASE NOTE: The sword is purely a decorative object and not sharpened!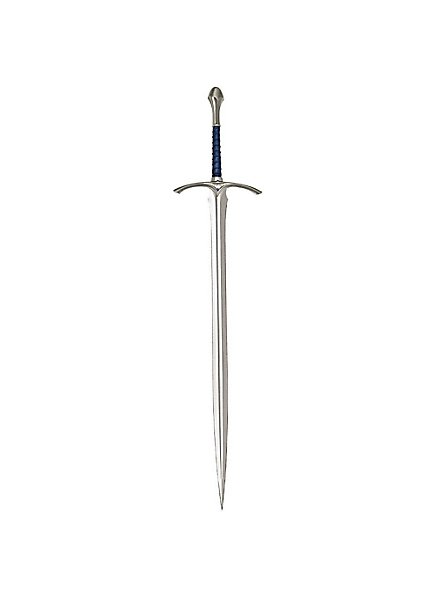 back to top